WEATHER IN MONGOLIA
SPRING (MARCH, APRIL, MAY)
In spring, temperatures begin to warm up and the heavy winter snows and frozen rivers begin to thaw. Also it's starting of breeding months when nomads welcome newborn stock animals. If you like adventures and are interested in nomadic culture at the same time as enjoying scenic places, sights of newborn stock animals and vast of Mongolian is what you can enjoy. Spring has unpredictable weather. Sometimes you could have four seasons in one day. It can be very difficult to predict the weather during the spring, so visitors must come prepared for sudden changes.
SUMMER (JUNI, JULY, AUGUST)
Most of travellers come to visit during the summer when Mongolia gets the majority of its rainfall. The nomadic herders eagerly await these rains for the grass they bring their livestock, and the steppe turns from a dry, dead tan to its beautiful green all over countryside. In mid-summer, the average temperature reaches 25C and can rise up to a sweltering 40C before really cooling off at night. The hottest months and the peak of tourist season are July and August, especially when you are travelling in the Gobi Desert. This season you better carry multiple layers of light clothing with you and you never really know what the weather in Mongolia will change.
FALL (SEPTEMBER, OCTOBER, NOVEMBER)
In fall, it starts getting cooler and it's less windy. During the fall season, it can be a great opportunity to experience how Mongolian nomadic herders settle down and prepare for the winter. September and October is also one of good times to visit the Gobi region, as well. By November, the snows are setting in over most of the country and temperatures really cool off. The most important thing is to carry warm clothes and waterproof boots.
WINTER (DECEMBER, JANUARY, FEBRUARY)
Winter is understandably cold. Temperatures can get extremely low, the average day temperature is -18-28C and night temperature is -30-35C. Snow makes travel difficult and short snow blizzards can arrive anytime. But you can still visit Mongolia in winter, especially if you visit during the Winter Festivals of Mongolia. And short trips are always available for you all year around.
Sunshine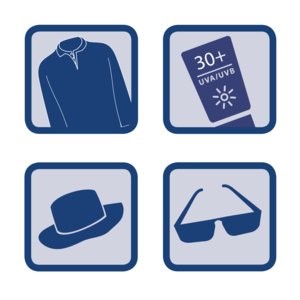 Always have and wear a long sleeves shirt, sunscreen, a hat and sunglasses to protect yourself from the sun.
Most places in Mongolia receive over 230 sunny days of sunshine a year, with the sunniest areas – especially the Gobi Desert in the southern area - receiving over 260 sunny days. As Mongolia nomads observes daylight savings, during summer months, daylight can last up until 9.30pm.
The sunlight here can quickly burn your skin from July to August, especially between 10am to 4pm. Be "Sun Smart" by using these three simple steps when you go outdoors in the countryside:
1. Stay in the shade, whenever possible.
2. Wear a long sleeves shirt, hat and sunglasses.
3. Use SPF 30+ sunscreen. Reapply every 3 hours.