CAR RENTAL

IMMEDIATE START > FULLY FLEXIBLE SCHEDULE > PLAN YOUR OWN ITINERARY

IF you want to travel for individual activities without our package tour, you can hire a private vehicle for which we offer qualified local drivers with their private 4WD cars. Consider using our drivers who are trusted, good mechanics, experienced driving through unmarked, unpaved bumpy off-roads in the Mongolian countryside. Our staff will assist with all of the details of your trip with flexibility at your convenience and guarantees to get you further off the beaten path with comfort and safety. From scheduling pick-ups and arranging activities to organizing until your departure to the airport, we are here to help. We work with groups of all sizes and strive to provide our customers with a worry-free and pleasurable experience, from start to finish. Our choices include a wide range from 1 passenger with 4WD Russian and Japanese jeep minimum or a 4WD Russian minivan for 4-6 passengers to a county bus for 18-25 passenger coaches. If we cannot provide all of your transportation needs, we will work with other companies to provide you with exactly what you want.
OUR DRIVERS
Our Mongolian drivers are experienced and have vital skills as local drivers. With their private vehicles, they will guide you in discovering the most significant spots along your way in Mongolia, especially driving in remote areas without any navigation off the road. They are trustworthy, friendly and very good mechanics. By the end of your trip, you will have developed a great relationship and experienced a memorable trip with them from arrival to departure.
DRIVING ON THE OFF ROAD "Do not think about the time while you are on a long-distance tour"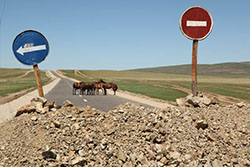 Our roads in the countryside are mostly made of dirt. Especially if you are planning your multi days journey in remote areas, know that there are no main roads, decent routes with sign-posted ways; except in the small towns and cities, traffic signs and lights are absent. If you're used to driving in the metropolis city, you will find out what's different about driving on Mongolian open country roads – a freedom to explore places that are away from the usual tourist trails.
HIRING A DRIVER + 4WD VEHICLE = INCLUDES THE FOLLOWING THINGS:
> Experienced Local Driver + 4WD Vehicle
> All Petrol Includes During the Trip
> Driver's his Accommodations During the Trip
> Gooking Gear

> Driver will be Assisting You with Your Luggage During the Trip

CHOICES OF THE VEHICLES
RUSSIAN MINIVAN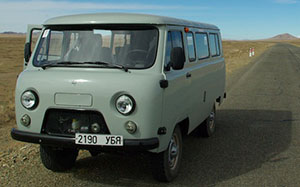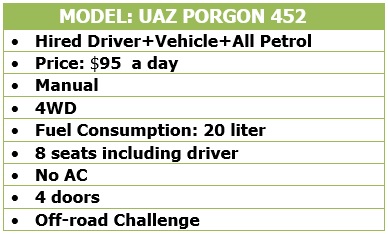 JAPANESE JEEP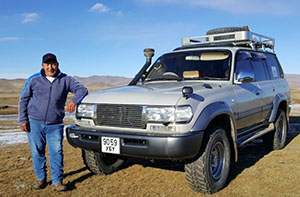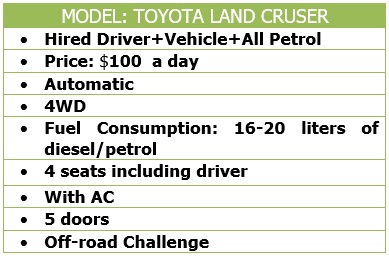 JAPANESE MINIVAN